Our Legacy
History of Elliott Equipment Company
In 1970, Glen and Eilene Elliott formed Elliott Equipment Company out of their small home in Fairfield, Iowa. Glen had previously sold Allis Chalmers construction equipment for 16 years at a firm that ended up going out of business. The construction house he worked for had a line of garbage trucks and street sweepers, but it wasn't a priority for them. He thought that a person could make a living selling these things. He recruited manufacturers and was assigned the territory in Eastern Iowa and Western Illinois for refuse equipment and street sweepers. In those days, delivery on a garbage truck was one year. Needless to say, the money did not flow into the newly formed company right away.
Glen sold out of their home in Fairfield, Iowa for two years and Eilene did the bookkeeping before relocating to Davenport, Iowa.  There they established a place of business for their main parts and service location. In rural areas during the early 1970's, having your garbage picked up was a newer, modern thing. Most people took their garbage to the town dump. However, in the early 1970's, the State of Iowa closed the town dumps and garbage had to be taken to sanitary landfills. Many towns in Iowa looked to purchase garbage trucks to haul their citizen's garbage. Thus, the garbage truck industry started to develop.
Through the years, Elliott Equipment Company has grown and expanded to meet the demands of customers seeking high quality municipal equipment along with friendly parts and service personnel. We now have five locations – Davenport, Iowa, Grimes, Iowa (Des Moines), Lincoln, Nebraska, Grandview, Missouri (Kansas City) and Commerce City, Colorado (Denver) – and we service seven states. "Putting the customer first continues to fuel our growth and expansion."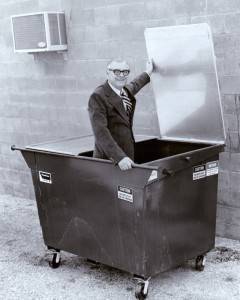 Glen Elliott said, "The customer is the number one priority. If we don't make the customer happy they won't come back.   Nothing happens until the customer makes a purchase and everyone at Elliott Equipment Company works for the customer!"  Glen retired in 2001, but the principles and values he established when he started the Company, are still present today. "We are a family owned business with family values."
Elliott Equipment Company has been the #1 dealer in the country many times for several manufacturers. We continue to grow and earn numerous awards for our sales volume and service centers. Our factory trained sales and service centers are the backbone of our company. We are here to help you get the job done!